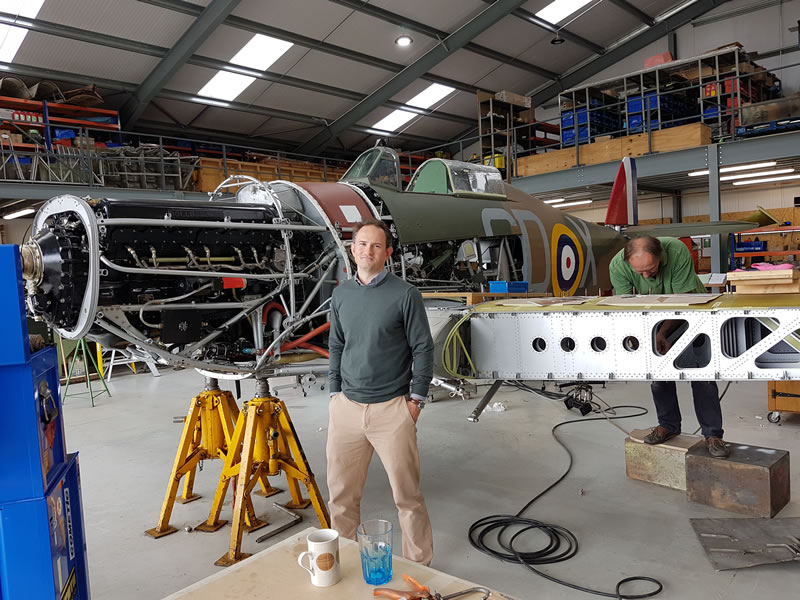 I had the honour of visiting an original MKI Hawker Hurricane recently. The plane had been shot down over Kent in 1940 and is being restored by neurosurgeon Peter Kirkpatrick. Peter is currently training to be an aerobatic pilot and once the plane is fully operational, aims to fly it in as many air displays as possible (www.hurricane501.co.uk / @501hurricane).
The Hurricane is the great unsung hero of WWII. Many people wrongly believe that the Spitfire – now synonymous with victory in our skies – was the most important aircraft in the Battle of Britain. In fact it was the Hurricane that saved the free world and the plane accounted for over 60 per cent of RAF victories in the Second World War.
The Hurricane dominated the front line. According to the RAF, for every two Luftwaffe planes brought down by Spitfires, three were shot down by Hurricanes. Despite the facts, these planes and their heroic pilots never received the credit they deserved – an issue historians now refer to as 'Spitfire snobbery'.
We see many examples of unsung heroes in the NHS every day. Teams of equally heroic staff who face challenging, arduous conditions to strive for the best care for their patients. Among the negative press of long waiting times and excessive layers of management – neither of which can be attributed to the hard working staff on the medical front line – are medics who show remarkable courage, professionalism and compassion.
Recently we've seen more national award schemes created such as 'NHS Heroes' which recognises staff whose day-to-day work has helped to change or save a life. These rewards are to be commended but I suspect the worthy recipients accept the awards on behalf of the full team around them.
David Jones (@jonesthesurgeon) is a consultant surgeon who helped victims of the Manchester Arena attack earlier this year. Like his colleagues he worked through the night. He commented: "I'm a surgeon, but I can't operate without a team around me and the team was amazing."
Just as in war time, it is the team effort which pulls people through and makes the difference. The unsung heroes of the NHS deal with over 1 million patients every 36 hours. Only a remarkable team could achieve that.